The Sheep and the Goats If you look closely at an icon of our Lord Jesus Christ, whether the one you have at home or one …
Source: Orthodox Circle by Fr. Ninos Oshaana | 17 views

Some time ago, The Associated Press published an interview with a Dr. Leonard Sax titled "Why kids today are out of shape, disrespectful and in charge." Dr. Sax isa prominent family physician and psychologist who conducts workshops around the world for parents, teachers, social workers, counselors, and school psychologist. He is also a parent and this article highlights a new book which he has written titled "The Collapse of Parenting." In his book, the doctor argues that "American families are facing a crisis of authority, where the kids are in charge, out of shape emotionally and physically, and suffering because of it. He calls for a reordering of family life in response"

The rest of the interview has Dr. Sax explaining more about his research and findings. He mentions a story from his book about an office visit with a 10 year old boy and his mom. He says "The boy was sitting and playing a game on his mobile phone, ignoring me and his mom as I'm talking with his mom about his stomachache. And his mom is describing his stomachache and the boy says, "Shut up, mom, you don't know what you're talking about. And he laughs." The doctor goes on to point out that "this kind of behavior would have been very unusual in the 1990s or 2000. It is now common…. children, girls and boys, being disrespectful to parents, being disrespectful to one another, being disrespectful to themselves, verbally and otherwise. The mother did nothing, just looked a little embarrassed. The culture has changed in a profound way in a short period of time in ways that have really harmed kids. "
Is there a parallel between the behavior of these misbehaving children and our culture? Is it possible that what we are seeing with such children these days is not only related to a change in parenting styles but perhaps ultimately their bad behavior is simply a reflection of our culture and society? Is there a deeper, spiritual issue here?

One obvious parallel has to do with authority. Just as these children no longer care about or respect authority, so does our popular culture seem to no longer care about or respect the authority of God. But rather, each person is free to define his or her own moral, ethical and behavioral code by which to live. But ironically, this anti-authoritarian attitude and approach leads to very authoritarian practices. Because we end up actually passing laws to enforce these so called freedoms and punish those who don't agree with them. Just like that boy at the doctor's office, our society tells God, tells the Church, "shut up, you don't know what you're talking about." It teaches you to believe not in God but in yourself, and to say, "I'm in charge, I will force God to conform to my image and likeness instead of me conforming to His image and likeness." Just like these children, and just like the Prodigal Son, the outcome of it all is despair and suffering.

The interview ends with a final question posed to the doctor about what parents can do to correct this kind of harmful behavior and how to help a child, or teen become a fulfilled adult. After all his research and clinical experience of 30 years, his conclusion is something the Church has been teaching for 2000 years. "The first thing" the doctor states, "is to teach humility."

How do you teach humility? How does one become humble. What exactly is humility? Today's gospel reading about the Prodigal Son contains the answer.

The parable of the Prodigal Son is also a story about a parent and his child, about authority, emotional and physical struggles, and about suffering. The Prodigal leaves his Father's house because he no longer wants to live under his authority. He wants to be in charge, in control. This desire is motivated by pride, the opposite of humility. Because the son believes that he is capable of living life on his own, away from the Father, and without the Father's help. But that's not the case. Instead of being in control, he loses control. He loses control over himself, over his desire for pleasure, over his desire for the things of this world. He finds himself alone, despairing, suffering in a hostile and cruel world. And this all happens because he no longer wanted to live under his Father's authority. And being vulnerable, without a guardian, without a protector, he fell under the authority of the Devil and became a slave to the pleasures and desires of his body.

He left his Father's house with a hunger for something else but spending everything he had trying to satisfy that hunger, he still ends up hungry in the end. Why? Because our souls are hungry for God, they are thirsty for eternal life, for permanence, for that which is Real, Beautiful and Eternal. Our souls can never be satisfied by the fleeting, momentary pleasures of this life. Like the Prodigal, we cannot live, we cannot exist and we have no identity, apart from God the Father. Like the Prodigal we will be restless, wandering, hungry, lost and dead until, coming to our senses we realize our weakness, our utter dependence on our Father in Heaven, and thus we attain true humility, and humility leads to repentance and repentance leads to forgiveness and forgiveness leads to salvation.
Someone once said, "Your child will follow your example, not your advice." We are children of God. As our Father, God has given us an example to emulate. Not simply through words, or philosophical ideas, or empty religious concepts, but through the greatest example of love and humility which the world has ever seen, and that is the love and humility of the crucified Christ. This is the identity, this is the example, we have to live up to, if we are to call ourselves his children.

At every Divine Liturgy, the priest says outload these words before the congregation prays together the "Our Father." He says, "and make us worthy, Master, with confidence and without fear of condemnation, to dare call You, the heavenly God, Father, and to say: Our Father." God is our parent, our Father, and therefore we can only truly be his children if we remain under his authority. And what does it mean to be under God's authority? Does it mean we become subservient robots, with no control, with no freedom? No, being under God's authority means we are loved, protected and blessed. This is demonstrated so clearly and movingly in the love of the Father to the Prodigal son. He embraces him with love and kisses him. The finest robe is placed on him signifiying a kind of protection and sheltering of his nakedness and vulnerability, and a ring is placed on his hand signifying the blessedness of his identity. And the loving voice of the Father speaks throughout the scriptures, revealing what being under his authority means with words such as these:

"Everything I have is yours,"
"Come to me all you are heavy laden, and I will give you rest"
"Ask and it will be given to you, seek and you will find, knock and the door will be open to you"
" I am with you always"
"In this world you will have trouble. But take heart, I have overcome the world"
"I am the resurrection and the life. Whoever believes in me, though he die, yet shall he live."
Categories from OrthodoxCircle
FEATURED ARTICLES FROM ORTHODOXCIRCLE
St. Nina, Equal to the Apostles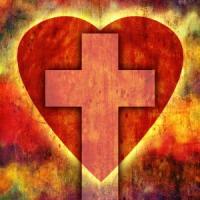 The Isle of Defeated SoulsLATEST ARTICLES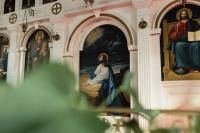 Freedom in Christ "It is for freedom that Christ has set us free. Stand firm, then, and do not let yourselves be bu…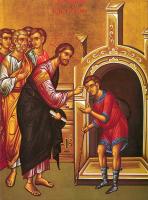 Suffering and Obedience What does it mean to have faith or to not have faith? Is Faith some