Federal Judge Finds That New York Officials Unlawfully Discriminated Against Houses of Worship Through Coronavirus Orders As signers of the Declaration of Essentiality, we wanted to keep you informed because the national fight for religious liberty and the right of churches to gather together continues in the midst of the racial crisis.

On Friday, June 26, 2020, New York District Court Judge Gary L. Sharpe blocked New York officials from enforcing state restrictions on outdoor and indoor religious gatherings that are stricter than those imposed on mass protests and secular businesses.

Judge Sharpe quoted Mayor De Blasio and Governor Cuomo expressing approval for protests against racism and police brutality that followed the death of George Floyd while continuing to support restrictions on religious gatherings. The "simultaneous pro-protest/anti-religious gathering messages" sent a clear message "that mass protests are deserving of preferential treatment," in violation of the First Amendment. Read the judge's decision here.

This decision is an important step toward preventing selective enforcement of social distancing guidelines against houses of worship. It is a win for religious freedom and civil liberties.

On June 9, 2020, Advocates filed a similar lawsuit in California against Santa Clara County public health officials who encouraged mass protests against racial injustice as a "fundamental right that is critical to the health of our democracy." The County also told protesters "We are with you, and we hear you." At the same time as supporting mass protests (see their Facebook post below), the County has continued to restrict churches to strictly outdoor services with no more than 25 people. The County's message – "freedom for me, but not for thee" – is precisely what Judge Sharpe found unconstitutional. Read our lawsuit here.

Judge Sharpe's decision reinforces the merits of our lawsuit and will be instructive as our judge analyzes our claims. Please pray that like Judge Sharpe, our judge will be able to see through the sham of Santa Clara County's health orders.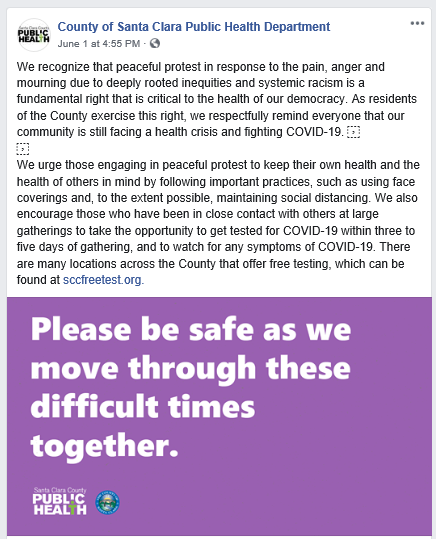 Tyler & Bursch, LLP provides legal and financial support to the 501(c)(3) non-profit law firm, Advocates for Faith & Freedom (www.faith-freedom.com) in defense of constitutional and religious liberty.